Our sister imprint, Snowy Wings Publishing, frequently publishes "Author Takeovers," where member authors can talk about their books and other topics that are important to them. This month we are starting the tradition on our own blog, kicking it off with a Pride Month-related blog post by Clare Dugmore. As a vocal bisexual author who has published two books with Crimson Fox Publishing featuring bi main characters, this is an important subject for Clare, so we hope you will read along!
---
Bi Erasure in the LGBT+ Community
A guest post by Clare Dugmore
It's Pride Month 2022, and I can't believe some people are still arguing if bisexuals belong in the LGBTQA+ community (and yes, I know trans people, asexual people and other parts of the queer community also face this sort of treatment, but as I'm not trans or ace, I don't want to speak on behalf of others.).
The other day, I read a news article about a wrestler who was charged with domestically abusing their partner, and there was speculation it happened because their (male) partner was bi and seen talking to a woman.
WTF?!
And yes, domestic abuse in all forms is bad, and being jealous and controlling of your partner is also bad.
But one thing I see thrown around a lot when it comes to bisexual people is that we're greedy or wanting the best of both worlds. I don't quite understand why bi automatically means promiscuous.
Then there's those people who say bi people are just confused and will eventually "pick a side." If they get into a same-sex long term relationship they were gay all along. Or if they get into a opposite-sex long term relationship they were straight all along. As though your sexuality and who you're attracted to can be turned on and off like a switch once you've found someone you want to be with long term.
Don't even get me start on all those people who renounce their bisexuality as a phase, and claim they're now ready to "settle down." Can two men not settle down? Are lesbian couples not valid?
The LGBTQA+ community as a whole is still facing struggles, even with all the progress made over the last 50 years since the Stonewall Riots. We don't need to make it worse on ourselves and other members of the community by debating who belongs.
Sexual attraction is a complex, fluid thing. And yes, some people might start their journey as identifying as bisexual, and over time come to realize they're actually gay, or they're straight, or whatever. That's the fluid nature of sexuality.
But that doesn't mean all bi people are just biding their time, waiting for a side to pick, or that they're greedy by being attracted to multiple genders.
A bi person isn't any more or less worthy of love and respect based on their sexual history and preference. Bi people, no matter their relationship status and sexual history, are still valid. They don't suddenly become gay or straight if they enter into a long-term relationship, and being bi doesn't automatically mean you renounce monogamy and want to go around having sexual relations with everyone you see.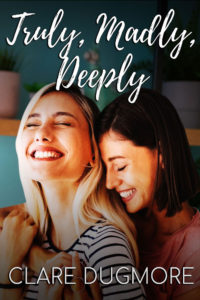 That's why representation matters, and why in both my women-loving-women books, at least one member of the pairing is always bisexual. I use my writing as a way of exploring and representing my take on bisexuality, and some of the struggles bi people face.
So, this Pride, try to take away the lesson that bi people belong, that they're valid and someone is so, so much more than who they sleep with or love.
As a community we need to hold each other up, not drag others down. Stay safe, have a happy Pride and be nice to each other.
Find Clare's WLW Romances Here
---
About the Author
Clare Dugmore is a writer, bookworm and daydreamer from the West-Midlands, UK. Through Crimson Fox, she has published two LGBTQA+ works: I Want You To Want Me (a short story about a young woman who realizes she might be bisexual when she starts having feelings for her best-friend/roommate) and Truly, Madly, Deeply (a novel about a single mom who has to rethink her sexuality when she starts to fall for the coach of her daughter's soccer team.) Learn more about Clare at her website.