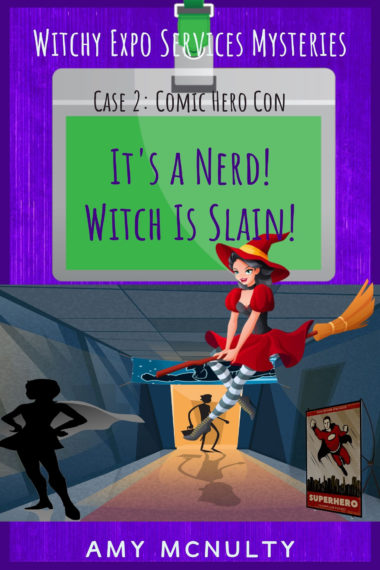 Series:

Witchy Expo Services Mysteries, Book 2

Available in:

eBook, Paperback, Large Print Edition

ISBN:

9781958051139

Published:

October 11, 2022
Kindle Unlimited
Indie Bound
Witchy Expo Services. We host your convention, expo, or trade show—with a dash of magic!
Nimue Toothaker, recently named co-Head Witch General Manager of Witchy Expo Services, is finally getting a handle on the job—and the dual-personality warlock with whom she shares it. While the fallout from the murder at her first convention as manager certainly led to plenty of publicity, she's not eager to repeat the dreadful experience for her largest con yet: Comic Hero Con, which brings in comic book fans and comic hero film buffs from around the world.
The highlight of the con? One of the biggest stars in the mega comic hero film franchise of the century. Unfortunately, his real-life persona is nothing like his on-screen one, and it's up to the Witchy Expo Services staff to make sure the neurotic celebrity shows for his advertised con appearances. To make matters worse, the head of the group that booked the Cauldron Cove Convention Center for the con doesn't know what she wants—but she knows she isn't happy with Nimue and her staff's top-notch efforts.
Juggling two eccentric VIPs is just the start of Nimue's problems when a Cauldron Cove witch turns up dead on the showroom floor. Because of the town's magic, the convention must go on—and Nimue and her co-workers will have to table their grief until they can figure out if there's another murderer in the convention center. It'll take a heroic feat, but they have to beat the villain on the loose before it's too late.