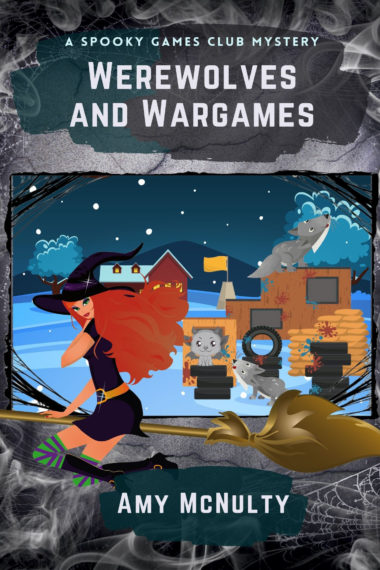 Series:

Spooky Games Club Mysteries, Book 6

Available in:

eBook, Paperback, Large Print Edition

ISBN:

9781958051276

Published:

June 6, 2023
Kindle Unlimited
Indie Bound
Dahlia Poplar, Luna Lane's homegrown witch, has had enough of mystery and murder. Luckily, the royal witches after her may be preoccupied after the blow Dahlia and her friends dealt them the last time they tried to attack. Ready to spend a snowy February warm and cozy at home, the only thing that could have made her first Valentine's Day with her boyfriend better would be if they didn't have to confine their celebration to a video chat.
Thankfully, her best friend has quite the plan for holiday: Faine's parents and in-laws are visiting Luna Lane to spend time with their grandkids, and the kids aren't into mush or romance. Instead, the family wants to stage an elaborate paintball wargame, which is something the kids enjoy in the werewolf village in Canada. Of course, the Spooky Games Club was practically made to participate.
Unfortunately, the pretend wargames result in an actual murder—and someone near and dear to Faine is thought to have killed for real. It's up to Dahlia to gear up for the fight and sleuth out the truth. Otherwise, her loving, supportive, and optimistic Galentine will never be the same.