June is Pride Month, and we would like to take the opportunity to highlight some of the books and series written by Crimson Fox authors that feature LGBTQIA+ main characters! Check out our recommendations below:
Bisexual and Questioning Romance from Clare Dugmore
Clare Dugmore has written several contemporary romances for Crimson Fox, and many of them feature main characters who are LGBTQIA+. As an openly bisexual woman, Clare has written frequently about bi erasure in the LGBT community (watch this space for an author takeover post by Clare  on the topic later this month!). The protagonists in two of her novels are women who are discovering their own queerness, and the stories follow their experiences as they come to understand their own sexuality.
In I Want You to Want Me, college student Jocelyn realizes that she may be bisexual as she begins to develop feelings for her best friend and roommate, Hannah, who is an out lesbian. Though she is initially unsure of her feelings and her newfound identity, she discovers her own inner boldness as she must act on her feelings in order to win Hannah's heart. This short and sweet romance is a perfect read for anyone looking for a lightweight sapphic read for Pride Month.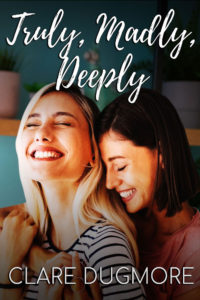 In Truly, Madly, Deeply, single mom Sabrina has never believed she's anything but straight, but all of that changes when she starts to have feelings for Rhiannon, her fourth-grade daughter's soccer coach. The two must grapple with their emotions as Rhia, who knows she is queer, believes she is deluding herself by falling for a straight woman, and Sabrina is wrestling with the possibility that she may not be as straight as she'd previously believed. With their two daughters, Teagan and Piper, serving as matchmakers, Truly, Madly, Deeply is a fun romp with a mildly steamy heat level.
Badass Queer Women from Lauren Jankowski
In Lauren Jankowski's urban fantasy saga, The Shape Shifter Chronicles, a team of badass women called The Four must protect the world from the forces of darkness. Each of these women is herself LGBT: one is a polyamorous lesbian, one is aromantic-asexual (aro-ace), one is Gray-A, and one is bisexual. As an aro-ace feminist, Lauren prides herself on writing diverse, queer characters, and The Shape Shifter Chronicles is full of them—from the protagonists to the side characters. If you're looking for an action-packed urban fantasy series for your Pride Month read, you can't go wrong here! Learn about the first book in the series, Sere from the Green, below:
There is a race that lives among humans, unbeknownst to them, called shape shifters, those that can shift from human to animal at will. Many protect the innocent on Earth and act as the eyes and ears of the guardians, divine beings similar to gods in ancient myths.
Isis is a woman who lives a normal life until the day she photographs a murder scene for her job. When the body disappears from her photographs, Isis is determined to solve the mystery. Her investigation uncovers answers about her own past and sets her on a journey that will change her life forever.
The Shape Shifter Chronicles currently has five books, and Lauren is working on the sixth book now.
---
We hope to bring you many more books in the future featuring LGBTQIA+ characters, so watch this space for more books!